Too busy to be social? You're not alone. 
Social media is a powerful platform for building your brand, if you've got the time for it. We provide the dedicated focus and quality your social media needs to grow.
Taking the hassle out of social.
We'll make your social media the perfect distillation of your brand. We'll help establish your tone of voice, build your strategy, find your key messages and manage your social channels so they buzz with personality. And we'll provide regular reports and analytics as standard.
To run effective social accounts you must lavish time, attention and love on them. We'll treat your social like it's our own: we'll create attention-grabbing graphics, curate and share content and grow your following – all in a way that's perfect for your brand. We'll manage your interaction and act as a liaison between your social channels and you.
Effective social channels can:
The discovery phase starts when we help you identify what you want to achieve from your social media presence. When we know this we can identify the right channels for you, revamping neglected accounts or creating stylish new ones from scratch.
We'll work with you to establish your tone of voice and the type of content you need to share. We'll ask a lot of questions, which is why so many of our clients enjoy this stage: we often help our clients to clarify their thoughts about how they want to be perceived or even articulate feelings or ideas they didn't know they had.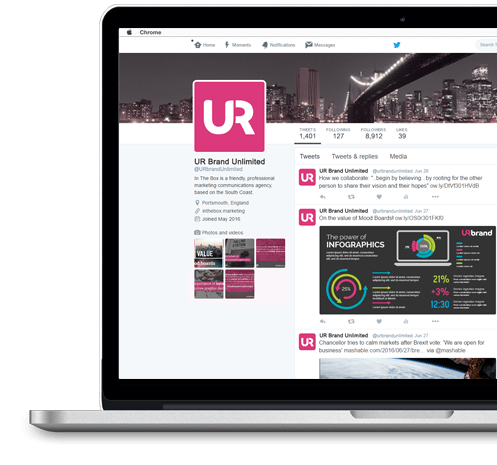 We'll help you to create useful objectives for social media, conduct competitor research, create customer personae and define an effective content strategy. This will help us to manage your social media brand in a way that achieves your goals.
Step three: Engagement & Growth
There's more to social media than broadcasting content. As well as curating relevant content we will be active on your channels, monitoring all social engagement (comments, DMs, reviews etc) and driving interaction and social reach. We'll "like" relevant posts and comment where appropriate, using organic tactics (follows, hashtags, interaction) to build your social following and grow your brand.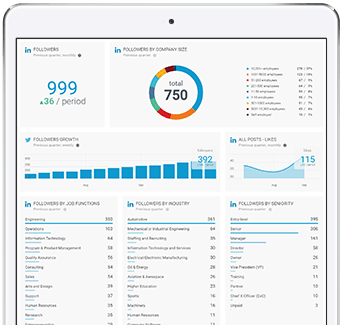 Step four: Review & Analysis
We provide ongoing analysis, measurement and reviews of our activity. So every quarter you'll get a full breakdown of your social media activity and growth as standard.