How we work
We're a creative, agile marketing communications agency for companies who either don't have the resources for an in-house marketing department, who want to outsource specific marketing tasks or who need a marketing infrastructure from which to grow.
We can set up your marketing infrastructure for you and then hand it over, or manage it on your behalf. We can also act as the marketing communications function of larger organisations who don't have a dedicated team. Approachable, honest and proud of what we do, we make it easy to get a handle on your marketing toolkit and can integrate well with other teams.
We also provide "self-marketing" services for jobseekers who want to make an impression, from basic CVs to eye-catching portfolios and even brochures.
Our approach
For a quick overview of how we can provide solutions to your marketing challenges, see "At a glance".
In the Box Marketing is the brainchild of Christian Staunton and Simon Withers, both company founders, owners and directors.
Although some say we're relatively youthful, between us we have about 25 years of marketing and related experience. We met at work and have been friends ever since, having worked together for most of the last decade. As such, we've formed a close creative partnership with an intuitive way of working together.
Simon is a words man; he has a 1st in English and a postgraduate journalism qualification, is CIM qualified and is good at getting passionate on other people's behalf. He has an eye and an ear for communications and loves challenging people to define their requirements, something he can do very gently.
As sociable types, we both love working with other people and being part of a team. We're also both lovers of nature, running, the great outdoors, mountain biking, music, reading and learning.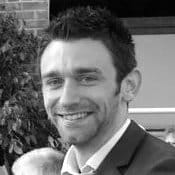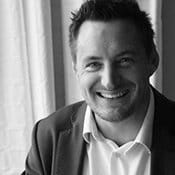 Between us we've worked as the (Senior) part of in-house marketing departments and as external suppliers, and our work covers the gamut of marketing communications from producing collateral to extensive group rebrands, building websites and digital channels, PR, social media and blogging, producing events, developing software, working with agencies and, well, pretty much everything.
Chris's educational background was in Computer Science and he gravitated naturally to graphic and web design and later web development. He's a technical and creative design whizz and professional geek who can do more or less anything that involves digital, design, and development. He rounds off his seemingly endless marketing talents by being a keen photographer who can create original stock photography.